Find the prayer that Alana Pratt
sent to my by way of en emotional emoji breakthrough!!
Dear exquisitely cherished Tony Greene,
Something's about to burst through.
I used to call this intense feeling ANGER.
I know now that it's the brewing of POTENCY.
Yet it still feels 'cranky' mixed with dollops of sizzling joy.
For example:
1. One client flattered me by calling me a "Femme Fatale
" as she asked me, How do I get a guy to ask me for my phone number?
2. Another client, in response to my freaky capacity to perceive what's going on beneath the surface, called me a "Freaky Guru."
3. Then my ex literally texted me, Thanks for continuing to work with him with acts of kindness in regard to our relationship, (OMFG??) that he appreciates my support and hopes we can continue. I responded, Ain't no stopping me now!!! He responded with this! I am so grateful!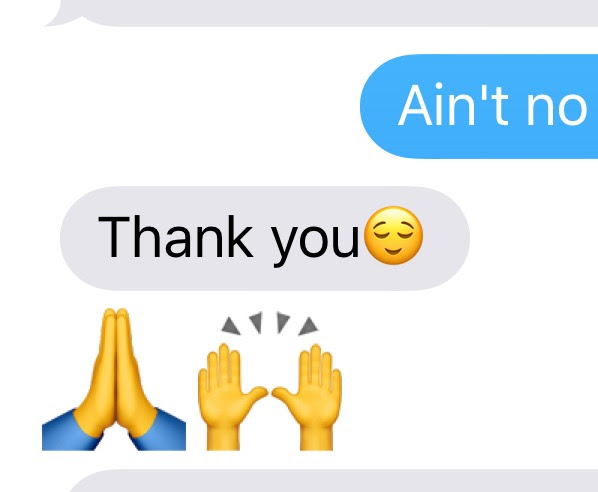 4. Another client who signed up got tested immediately (which pretty much ALWAYS happens because THAT'S how the Universe 'grows' you cultivating your demand for change, seeing if you'll still cave to circumstances and make excuses… or not). This guy wasn't willing to create beyond his circumstances
My huge wave of fierce love and unwavering commitment to him… got dammed up within me because he wouldn't receive it… so I danced it out to his Soul, to the Earth and headed to the grocery store.
5. When I was done shopping, an employee in the grocery store parking lot came up to me to offer to take my buggy away. My head was in the back of my truck, making room for my groceries by organizing my 5 pairs of 7" sparkly heels. I thought to hide them from him, then thought, WTF!! So I turned around showing him my sparkly silver ones and said, "YES! As soon as I get my shoes organized!" Delighted he said, "OMG I just started dating this woman who strips down in Orange County on Thursdays cuz there aren't as many drunks on Thursday nights."
There's something about me…
People tell me everything.
They subconsciously sense I don't judge.
They can somehow tell that I love unconditionally.
So they tell me their deepest secrets…even in parking lots.
He proceeded to tell me that he doesn't think it's going to work because she's 29 and he's 46, she's up all night but he works in a radio station every day, she's into rap and he's into country, yet Wow, when she did that lap dance for me…Wow.
I smiled and told him I get it
Then told him I don't strip but I do
pole dance
, yet I did dance at amateur night at Cheetahs for my B-Day and made $365 dollars!
He told me that's nothing! I should go to Orange County cuz she makes $1500 CASH a night, every
Thursday
. $6K non taxable, not bad at all.
Then he told me it's weird to know all these other guys are putting their hands on her during lap dances… that he's having trouble staying hard with her, cuz he really needs to love someone for "it" to work.
I told him that's amazing, that some of my clients can only stay hard when they DON'T love someone… that when things get too intimate, connected or vulnerable that they can't keep it up. He told me his body knows she's not the one. But he got Viagra. So it's going to be OK.
I smiled again.
I gave him my card.
He was so pure. So kind. So true. So delightful. So real. So open.
Such a treat to profoundly intimately respectfully joyfully connect with a stranger.
How did I get so lucky to be on the planet during this most wild intense miraculous time in history?
Nonetheless, there was still a potency, a capacity for SOMETHING brewing inside me…a feistiness!
So I checked my Vedic Astrology Calendar from my friend and colleague Carol Allen because some days I am a DOUBLE Dinosaur… which means, "tension and stress can be high, you are more vulnerable than usual to hostility from others. Avoid confrontations, people who make you angry, doing things too quickly, take your time and be deliberate."
But there were no dinosaurs that day.
In fact a yellow happy face, a heart AND a money sign! Ha!
So something ELSE was brewing and I'd HATE for my brewing to get cranky on Gabe or hurt the wonderful reunion I'm having with my ex-husband!
In fact, Carol has amazing information of how NOT to FREAK OUT on men.
Don't you hate it when men pull away, ladies?
(And don't you hate it men, when we become needy or angry when you need space?)
Disconnection is inevitable in any relationship. And it strikes sheer, utter terror in the hearts and minds of most women.
Good news – you can override this and instead impress a man. (All while honoring yourself and not being a door mat.)
Carol knows that
HOW you handle times of disconnection with a man,
DETERMINES if you'll ever get (or keep!)
the love you seek with him.
One freak out can cause
irreparable harm to a relationship
that's been happy or close for years…
Don't let this happen to you, my love.
Don't let your insecurities, fears or negative emotions ruin your dreams of love.
You can be happy anyway!
And if you are, he'll be impressed
(Right guys?)
I am an eternal sponge of life-changing information my colleagues provide for F*REE!
You can register for this rare chance to learn directly from Carol here:
"Navigating the GAP-
What To Do When He Pulls Away-
Be Happy Anyways & LURE Him Back…"
Don't let a temporary disconnection with a man lead to a PERMANENT disconnection!
And LMK what delicious conversations you have in parking lots or other unexpected places, because you're willing to be you and savor magical connected moments.
LOVE YOU! Deliciously,
A xoxox
p.s. Among several other secrets Carol's going to share, you will learn why even we '
cool girls
' lose our shit when men shut down. It's not our fault! says Carol. Whew!
It's apparently a brain thing… and she's going to show us how to calm our nerves and support ourselves.
xox A
Carol's THE best
Don't miss this rare chance to learn directly from Carol.
The post Alana Pratt texted me a relationship prayer emoji appeared first on .@tonygreene113.